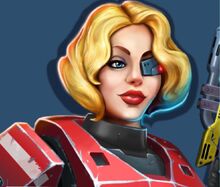 The Engineer is the seventh and final class in Blitz Brigade. The engineer can be unlocked either by buying the class or since Update 18 by winning 700 matches. She has an average health of 600 health points. Her speed is near equal to the Soldier's. The class was introduced in update 16 as the first female class in the game, together with a new layout for the game. As all the new classes, she doesn't obtain a big weapon arsenal, but different than others, she has turrets as secondary weapons and Repair Tools as melee weapons. Note that she doesn't share any secondary or melee weapons. She can deploy two turrets on her way. Once a third has been deployed, the first will deconstruct itself. As an Engineer, it is possible repairing turrets of other teammates.
Interesting fact: The Axis Engineer is "Miss 1943" which the picture is shown in the UFO Crash Site map and in her Biography.
Tech Supremacy
Edit
With the Tech Supremacy ultra ability, the Engineer can deploy a second, stronger and better armored turret upon activation. The turret works exactly the same and can be used at any time once the ability has been recharged. There can only be one Turret of the ability at a time, so just like the regular turrets will the other turret that has been deployed by the Tech Supremacy be destroyed.
Primary Weapons
Edit
The Engineer's primaries are very different to each other. They go from semi-automatic guns to shotguns; but no splash damage weapons. The Engineer shares the Humble-Bee as the default weapon for both Axis as Allies.
Turrets, which are the weapons of the secondary slot are in-game bots that can't move and aim for visible opponents, but they cannot see a Stealth who is using stealth mode. As the slot only contains turrets, no weapon of other classes can be equipped by the Engineer. The default turrets for both classes is the Sentinel.
Repair Tools
Edit
The repair tools are used to repair turrets, but cannot be used for vehicles. They can be used to kill other enemies too and they deal more damage than they repair. The Melee slot doesn't contain other shared melee weapons either as the Engineer needs the Repair Tools to repair her turrets.
Ultra Abilities
Soldier
Stun Effect

Reduces charging time to 65 / ? / 45 s
Increases Duration to 15 / 20 / 25 s
Increases stun effect duration to 2 / 3 / 4 s

Gunner
‎Healing Shield

Reduces charging time to 85 / 65 / 45 s
Increases duration to 13 / 16 / 20 s
HP replenishes by 45 / 75 / 100 %

Medic
The Hand That Heals

Reduces charging time to 85 / 65 / 55 s
Increases Toxic cloud's duration ? / ? / ? s
Increases Toxic cloud's damage 45 / 55 / 75 %

Stealth
Blink

Reduces charging time to 80 / 60 / 50 s
Increases duration to 25 / ? / 45 s
Increases the amount of Blinks to 4 / 5 / 7

Sniper
Infravision

Reduces charging time to ? / ? / ? s
Increases duration to ? / ? / ? s
Increases damage to ? / ? / ? damage

Demolisher
Bomb Surprise

Reduces charging time to 65 / 55 / 45 s
Increases explosion damage to ? / ? / ? damage
Increases the explosion radius to 12 / 14 / 16 m

Engineer
Tech Supremacy

Reduces charging time to 85 / 65 / 45 s
Increases the turret's damage by 25 / 35 / 45 %
Increases the turret's durability (HP) by 25 / 35 /45 %
Skill Upgrades
Soldier

Tier 1
20% Primary weapon clip size
20% Melee weapon damage

Tier 2
30% Melee weapon bleeding dot effect
30% Primary weapon range

Tier 3
40% Primary weapon critical chance
40% Primary weapon fire rate

Tier 4
50% Primary weapon damage
-50% Primary weapon reload time

Gunner

Tier 1
20% Damage to vehicles
20% Health level

Tier 2
30% Secondary weapon incendiary effect
30% Splash damage

Tier 3
40% Secondary weapon damage
40% Splash radius

Tier 4
50% Melee weapon concussion effect
-50% Primary weapon miss chance

Medic

Tier 1
30% Movement speed
20% Secondary weapon incendiary effect

Tier 2
30% Melee weapon bleeding dot effect
30% Primary weapon fire rate

Tier 3
40% Primary weapon clip size
40% Secondary weapon range

Tier 4
50% Primary weapon heal/damage
50% Secondary weapon damage 

Stealth

Tier 1
20% Melee weapon damage
20% Primary weapon range

Tier 2
30% Secondary weapon clip size
30% Secondary weapon damage

Tier 3
40% Grenade damage
40% Health level

Tier 4
50% Primary weapon bleeding dot effect
50% Stealth mode duration

Sniper

Tier 1
20% Primary weapon clip size
-20% Secondary weapon reload time

Tier 2
30% Melee weapon damage
30% Secondary weapon range

Tier 3
40% Secondary weapon damage
40% Damage to vehicles

Tier 4
50% Primary weapon critical chance
-50% Secondary weapon miss chance

Demolisher

Tier 1
20% Primary weapon clip size
20% Damage to vehicles

Tier 2
30% Primary weapon damage
30% Melee weapon damage

Tier 3
40% Splash radius
40% Grenade damage

Tier 4
50% Splash damage
50% Super jump cooldown reduction

Engineer

Tier 1
20% Primary weapon clip size
30% Turret fixing time

Tier 2
30% Turret health
30% Damage to vehicles

Tier 3
20% Secondary weapon
30% Health level

Tier 4
25% Primary weapon damage
20% Movement speed