The BBQ 1917 Special Edition is a primary weapon for all classes in Blitz Brigade. It's different from the BBQ 1917. It has a fuel container of 100 unlike the normal BBQ's fuel container of 40. It can only be purchased with diamonds in the shop, and also has a different appearance, notably with gold plating. It spews flames just like the normal version. Unfortunately, the flamethrower is somewhat weak and has a very limited range. However, the BBQ 1917 SE's fire rate is actually deceiving. While in the shop, it says that its rate of fire is considerably slow, while being used, the BBQ 1917 SE is actually a devastating close-range weapon, with its flames dealing high damage, coupled with its incendiary effect. Overall is a devastating weapon close range but horrible from far range.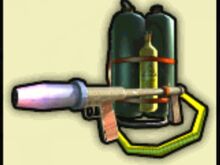 The
BBQ 1917
is a primary weapon in Blitz Brigade that only can be picked up in a
Supply Crate
and used by the player. It cannot be purchased unlike the Special Edition, and has a fuel container of 40. However, unlike the SE, it takes longer to kill an enemy, and once you have killed an enemy, more than half of your ammo is already gone. Therefore, the ammo capacity makes this a very weak weapon compared of the others. This weapon ca not be picked up by the supply crate any more or can't be used in any other way in the most recent version.